PE Explorer : Visualiseur et éditeur de ressources
PE Explorer offre l'un des éditeurs de ressources le mieux adapté et le plus simple d'emploi pour Windows. Les fonctions d'édition visuelle vous permettent de naviguer rapidement et de modifier les ressources d'un fichier exécutable dans le fichier sans avoir à écrire un script.
Vous apprendrez le programme standard de l'industrie pour la traduction et la personnalisation de l'interface utilisateur. Cet outil offre des possibilités intéressantes, même si vous n'êtes pas programmeur. Il a un public plus large que les seuls développeurs de logiciels : traducteurs, tweakers et ceux qui veulent une apparence et une convivialité différentes. Une fois que vous l'avez essayé, nous pensons qu'il sera difficile pour vous de revenir à d'autres utilitaires de piratage de ressources.
Voir aussi : Resource Tuner Console - une version autonome en ligne de commande de l'éditeur de ressources. Il combine un éditeur de ressources robuste avec des capacités de script intelligentes.
Voir aussi : Resource Editor Tutorials and How-to's - suivez ces étapes simples pour commencer à modifier les ressources de fichiers PE.
Partie I : Visualiseur de ressources
PE Explorer restitue parfaitement et représente visuellement la structure du menu et de la boîte de dialogue d'un exécutable pour la visualisation et l'édition. PE Explorer présente ces éléments visuels de la même manière qu'ils apparaîtraient dans l'application en cours d'exécution. Cela facilite évidemment l'édition et l'extraction de ces éléments. L'étude des interfaces propres et efficaces des applications de qualité commerciale peut produire des interfaces graphiques améliorées dans vos propres programmes.
A list of the file's resources is displayed in the resource tree where the first level defines the resource type. This tree can be expanded or collapsed by clicking with right mouse button on the chosen resource type and selecting an action from popup menu. Each element of the Windows user interface - dialog boxes, Delphi forms, menus, icons, pictures, string tables, XML manifests, and more are right at your fingertips. Support is provided for nearly every type of resources imaginable, including PNG, XML, Image Lists, and Type Library.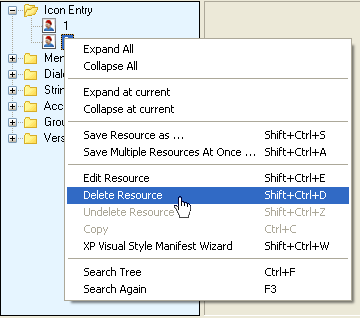 PE Explorer enables you to get at them to modify, save or delete them with the click of a button. This means you can view and change any program's text, pictures, buttons, and colors - you can completely customize any program you own. No programming skills required!
As a side feature, you can view and extract images, icons, sounds, animations - all you have found in your application - on your hard disk. That makes PE Explorer a perfect resource grabber. In addition, PE Explorer allows legacy applications to take advantage of the slick new look for common control styles on Windows XP by enabling you to inject the application manifest directly into the EXE file in just a few clicks.
Programs compiled using the Borland VCL do not commonly have menu, dialog, or accelerator resources, but store this information in a resource type named RCData or the Application-defined resource (raw data) that holds the information that were in the DFM file before the compilation.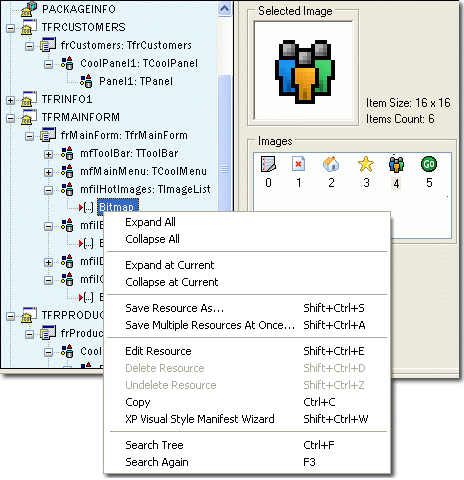 Because PE Explorer has itself been written using Delphi, there's a very strong emphasis on peeking inside Delphi applications and packages.
If RCData contains DFM forms, all the found objects with all assigned properties and events will be displayed in a hierarchical tree. You can navigate easily through the objects and save their contents (Image Lists, Strings List, Glyphs, Bitmaps etc). Package Info shows all units used during compiling an executable. DVCLAL (this stands for "Delphi Visual Component Libraray Access License") shows the compiler version for Borland products.
Vous pouvez afficher, extraire, modifier, traduire, éditer ou remplacer une ressource sélectionnée. PE Explorer facilite la traduction de n'importe quelle application, même si vous n'en avez pas le code source, même si ses développeurs d'origine sont partis depuis longtemps. Remplacez simplement toutes les ressources textuelles par leurs versions traduites et redimensionnez les formulaires, les boutons, etc. pour les adapter au texte traduit selon vos besoins.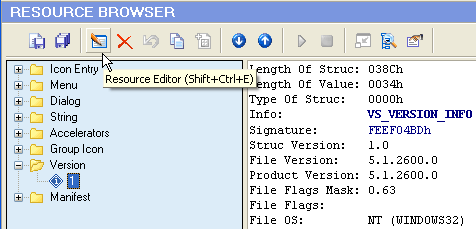 PE Explorer regorge de fonctionnalités qui en font un outil essentiel pour quiconque modifie un autre programme et pour ceux qui souhaitent une apparence et une convivialité différentes.
Partie II : Éditeur de ressources
One of the interesting uses of the program is its ability to personalize or "mod" an application. PE Explorer allows you to fully edit and replace strings, bitmaps, and icons used by an application. All changes made to resources can be watched on the screen and, if you are not satisfied with the result, you can return to the previous state.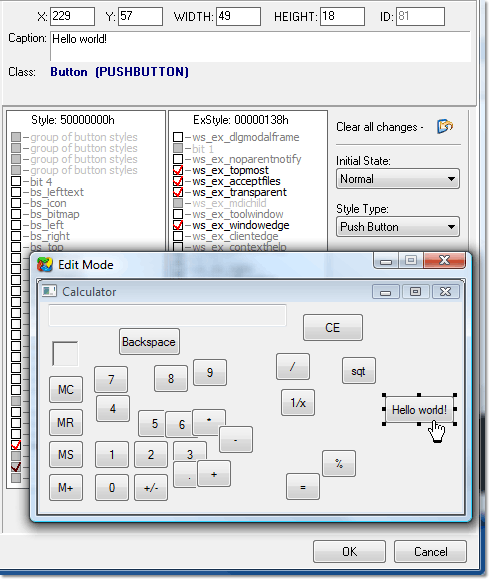 Depending on the resource type, PE Explorer automatically starts the appropriate editor mode (Graphics, Dialog, Menu, DFM, Text, Media or Version Info), if one is available.
Any change you make can be restored prior to quitting the editor using the OK button. You also have an option to create a backup copy of the target file (enabled by default). So by no means you can overwrite any important files.
Télécharger PE Explorer et apprendre comment il peut vous rendre plus productif.

Vue d'ensemble de PE Explorer (PDF) 320 Ko (Anglais)